Humbled and grateful for these wonderful reviews of 'Til Health Do Us Part!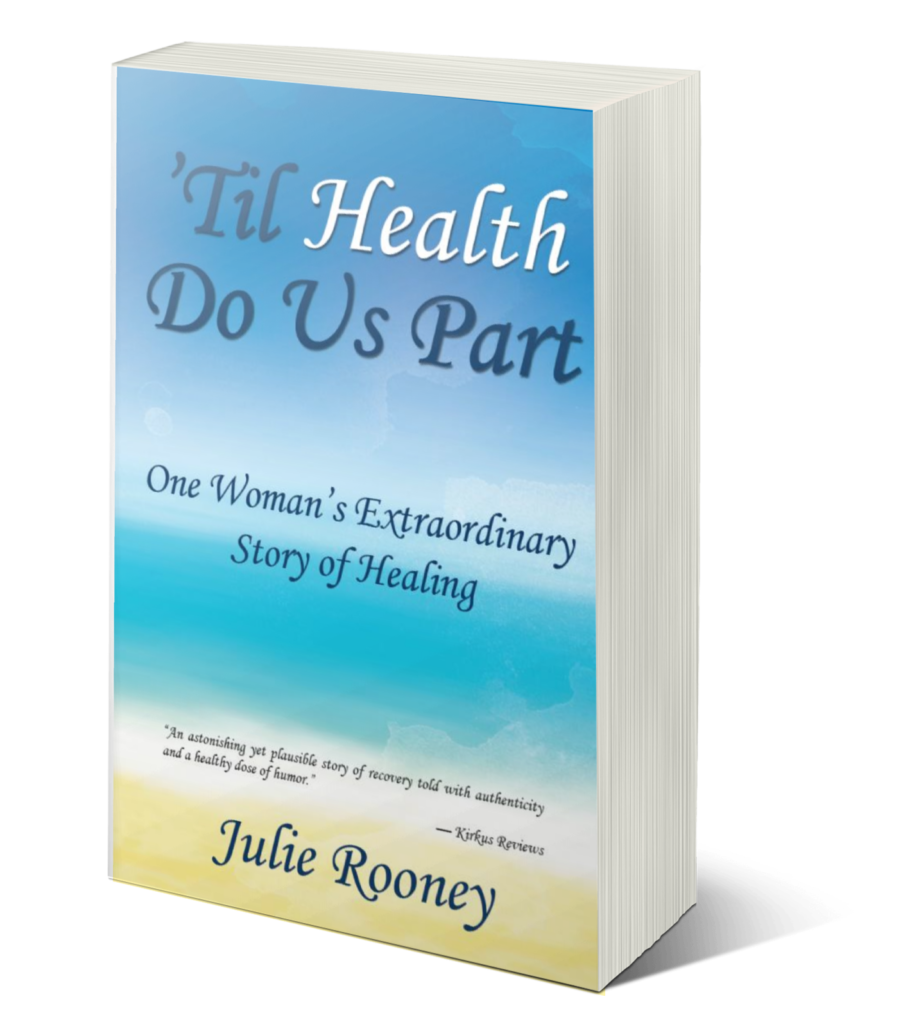 Kirkus Reviews April 25, 2019: "An astonishing yet plausible story of recovery told with authenticity and a healthy dose of humor."
Midwest Book Review, May, 2019: "Patients would do well to read this title and follow the example of this ordinary individual, whose increasing medical challenges required a different approach not just to single drugs, but to healthcare as a whole. 'Til Health Do Us Part is very highly recommended for its astute observations and blend of personal and medical revelations."
Readers Favorite April 19, 2019: "Not only does 'Til Death Do Us Part draw the reader in through the emotional intensity it contains, but it also transforms the otherwise weighty matter of ill health into unlikely entertainment. I found that the character duo of Julie and Xavier made me laugh with their quirky one-liners and spirited comebacks. If you know someone who has been through the life-altering effects of chronic illness, definitely recommend this book as a guide to what comes after!"
You Can Also Find 'Til Health Do Us Part at:
Readers Weigh In…
Florence Chavez5.0 out of 5 starsSomething Different and Unexpected May 1, 2019Format: Kindle EditionI LOVED this book. I don't say that lightly. Julie Rooney presents a new outlook on self care, perseverance, and relationships. I devoured this book in a day and have been thinking about it ever since. Am I taking care of myself? Rooney makes it clear that it's never too late, and I really am left feeling like if she can do it, so can I.
Am I working to love myself as I am, and not how I perceive others see me?
I don't have nearly as many health concerns as Rooney, but that feeling of stress and anxiety really hit home. As a stay at home mother, I could really relate to her feelings of watching her husband leave every day, loneliness and worrying about the kids. Sometimes I think we think medications will really help us, without addressing the actual problem. Rooney's journey makes it clear that sometimes we need to address our emotional malnutrition to treat physical symptoms… and it isn't going to be simple and easy.
Jamie BJ 5.0 out of 5 stars One Woman's Story of Bravery and Healing May 1, 2019 Format: Kindle Edition In this amazing book by Julie Rooney, she details her journey from sickness to health in a way that is uplifting and gives hope to those who have suffered in any of the ways that she describes. The book begins with her telling her family that she is going to make a change and follow her daughter to Hawaii and try to reclaim some of her life. It ends up to be a decision that most likely meant the difference between life and death for her. There, she meets a man who helps her on her journey to physical, mental, and spiritual wellness. It is not an easy path for her by any means—but neither has the path been that her illnesses have forced her upon.
The author is breathtakingly honest about all that has happened to her in her distant past, recent past, and the advancing present that she details in the book. The narrative weaves seamlessly between what is she experiences in Hawaii, her childhood and young adult years, and the years during which her diseases progress. When she discusses the evolution of her illnesses, she backs it up with actual doctors' notes and laboratory results, allowing the reader to see her as she was seen by the medical establishment. She's able to show how the progression altered her, her family, and her prospects for the future. It is harrowing to read how so much was affected by what was happening to her body.
I am an RN myself, so I understood a lot of what she was saying from a medical standpoint. But the point of this book is more about the juxtaposition between that model and what she found on Hawaii. She gained so much. She truly got her life back in a miraculous way. While I have not struggled with multiple diseases like she had to do (just one, but a life changer), I have I had my own journey that reflects a fraction of hers, so I can understand how much that means. For me, reading this book became personal as I could relate to her medical struggles, path to wisdom, and the importance of wholeness and wellness. I thank her for her willingness to be open, put it all down on paper, and share it with others; she has given me insights that will help me further my own continuing quest for total wellness.
Merry Jelks- Emmanuel 5.0 out of 5 starsSimply Amazing May 4, 2019 Format: Kindle Edition This is a truly awe inspiring story that will move you. I applaud her determination to dig deeper for what she needed to improve her life style. Her journey is a testament to anyone who has medical conditions that doctors have given up on.
I received a free copy of this book via Booksprout and am voluntarily leaving a review.
LiveToWrite 5.0 out of 5 starsA Must Read May 2, 2019 Format: Paperback For anyone struggling with illness of any kind, "Til Health Do Us Part" is a must-read. Witty and well-paced, this is a healing manual hidden inside a memoir. The time for us to embrace the wisdom within these pages is now.